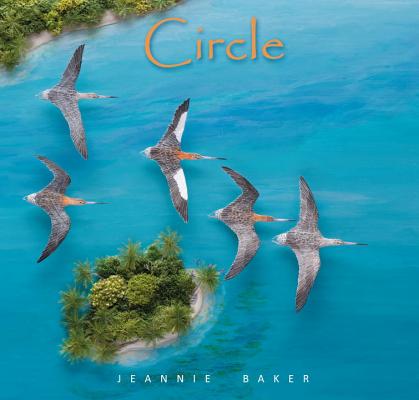 An epic book has been released from Candlewick Press titled
Circle
, by Jeannie Baker. With one wish: "Ahhhh--I wish I could fly!" and one note: "In its lifetime a godwit will usually fly farther than the distance from the earth to the moon," the collaged picture book begins.
"In a place where mud and sand become sea...
a godwit with white wing patches
flies up with his flock.
The moment is right
for the long journey north."
The flock takes flight away from a boy in a wheelchair at the beach. Page upon page follows the flock from one safe stretch of mud to another. The birds return to their remembered place and nest. Eventually, the moment arrives to leave again and reach the other side of the world. They arrive at the original beach and rest. Now, the boy leaves his crutches and races after his dog who is giving chase to the birds.
After the flock has flown full circle, the boy is shown again in his bed, imagining his own flight with the godwits. My only disappointment was that the boy did not remain in his wheelchair.
You won't want to miss this love letter to the godwits and the brilliant collage by Jeannie.
Circle
by Jeannie Baker
Candlewick Press, 2016