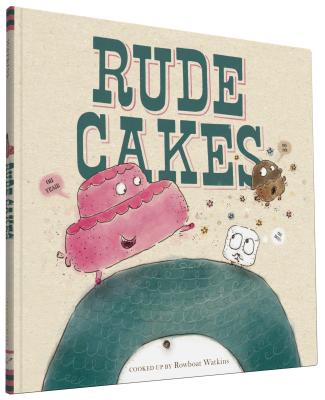 Sometimes a special book comes across my path, and I LOVE IT! I share it with everyone, hold it close, tuck it on my shelf, and treasure it. And later I realize I NEVER TOLD READERTOTZ ABOUT IT!
Call me a rude cake, but
Rude Cakes
by Rowboat Watkins was my
tip-top favorite book of 2015
. Rowboat Watkins, a former Sendak Fellow, offers a surprising, original, and oh-so-humorous picture book to our readertotz. He illustrates the difference between rude and polite with Cakes and Giant Cyclopses. Yes, cyclopses.
Rowboat was a 2016, Ezra Jack Keats, New Illustrator Honor Award Winner. Here's what others have had to say:
"The zaniest picture book premise of the year."--Boston Globe
"A truly surreal story, crammed with hilarious details and gently laced with an important lesson."--School Library Journal, starred review
"Hilarious and full of surprises. Pure picture book genius!"-Antoinette Portis, author of the New York Times Bestseller, Not a Box
I'm so glad the genius was seen. I cannot wait for more from Rowboat. More, more, more!
Rude Cakes
by Rowboat Watkins
Chronicle Books, 2015