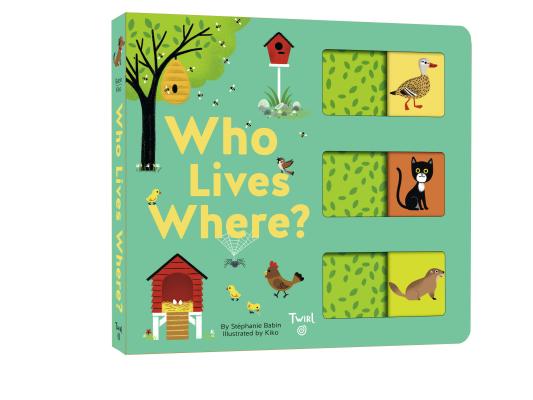 Publisher Twirl is knocking it out of the park! I'm excited to share recent titles of these high quality board books. Watch for more upcoming, but today, I'll point to two written by Stephanie Babin.
Touch and Explore Construction
, illustrated by Benjamin Becue, brings a new dimension to the building themed book. Inserts hold relevant textures within the scenes. Safety cones are shiny plastic, rubble feels like rubble, a crinkled paper feels like wood, and wet paint feels sticky.
Setting up, demolition, building a house and road are featured along with more. Various races, genders, and ethnicities work, walk, and play side by side. Smaller font offers further information such as: Even the repair of a streetlight is a small construction site!
Also by Stephanie Babin, illustrated by Kiko, is
Who Lives Where?
This is one of my favorite Twirl books. The left spread establishes a location and inhabitants who live there. i.e. In the House: a guinea pig, a cat, a spider. Each says where they live and the illustration includes the home, which may or may not be inhabited. The cat is not in her bed. The right spread shows those isolated animals and a sliding panel reveals their home. A reader might try to recall the mouse (slide the panel) lives in a hole.
I find the engineering satisfying. The panels slide easily with a nice click. The book explores the house, farm, garden, mountains, savanna, and sea. The sole lives in the sand, while the guinea fowl makes a home in a shrub.
There's an elegance and higher expectation in the tot in these two books by Babin. Brava!
Touch and Explore, Construction
by Stephanie Babin
illustrated by Benjamin Becue
Who Lives Where?
by Stephanie Babin
illustrated by Kiko
Twirl, first published in France