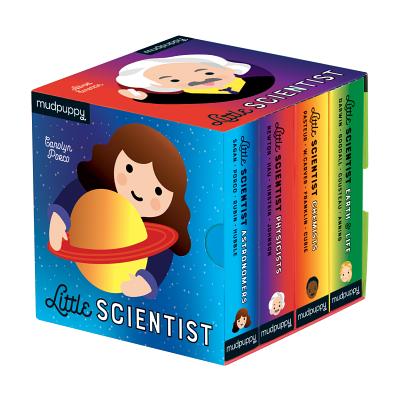 Chunky truth is what you find in mudpuppy's
Little Scientist
series by Emily Kleinman. The four square books fit in the little square box, ready for little fingers. Each book features four scientists and one field of study, including: earth and life, chemists, physicists, and astronomers. Diverse, great women and men are showcased in this science introduction.
"Jane Goodall learned that chimpanzees can feel love--just like we do.
Jacques Cousteau revealed the mysteries of the great ocean blue."
Earth & Life Scientists
Enjoy this colorful little series with your readertotz. Share sixteen heroes who have walked before us and loved our beautiful world and beyond.
Little Scientist, Boxed Set
by Emily Kleinman
illustrated by Lydia Ortiz and Patrick Rafanan
mudpuppy, 2018