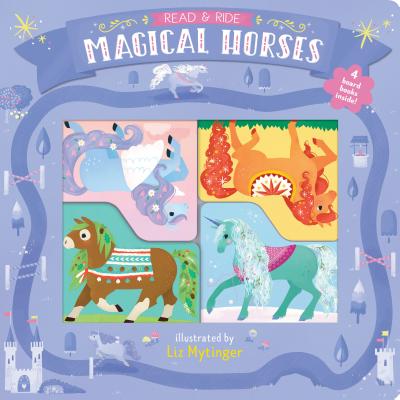 Welcome, newborn totz, to 2019! The world is wide and wonderful and full of books. As author/illustrators, Joan Holub and I continue to share the best board books which cross our paths. May you find joy in them with your family.
First up this year is
Read & Ride Magical Horses
. Four shaped board books nest inside a flat book box. When opened, the horses, pegasus, and unicorn have three scenes to meander through. Each horse additionally opens to share his/her story. Chestnut is curious. Blizzard is brave. Flicker is graceful, and Cloud is kind. Active verbs such as soar, gallop, and trot, are illustrated as well as kindness to community.
This dual book and play set will entertain and certainly be beloved by little horse enthusiasts.
Read & Ride Magical Horses
Illustrated by Liz Mytinger
Chronicle Books, March 2019