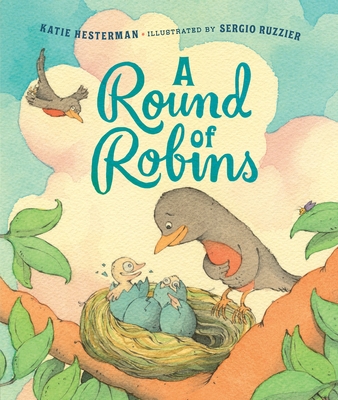 A Round of Robins is such a joyful, lyrical presentation of nonfiction. Following a pair of robins, the rocking rhythm and rhyme brings tenderness to creation. And reviews agree:
«
"A charmer of an animal family story, with rhymes that are a pleasure to read aloud." – Publisher's Weekly, starred review
«
"An utterly charming choice for most collections, perfect for one-on-one and small group ­sharing." – School Library Journal, starred review
«
"Follow a pair of robin parents as they raise not one but two sets of baby robins in this factual and funny volume." – The Horn Book, starred review
Here is my favorite spread:
A heater hides on Mama's chest
To warm each egg inside her nest
With sensors set at incubake,
In just a dozen days she'll make
F
our little ones all set to hatch-
An up-and-coming birdie batch.
Sergio Ruzzier's art in muted colors with expressive characters adds to the charm. Happy National Poetry month, everyone. Enjoy this delight with your readertotz!
A Round of Robins
by Katie Hesterman
illustrated by Sergio Ruzzier
Nancy Paulsen Books, 2018