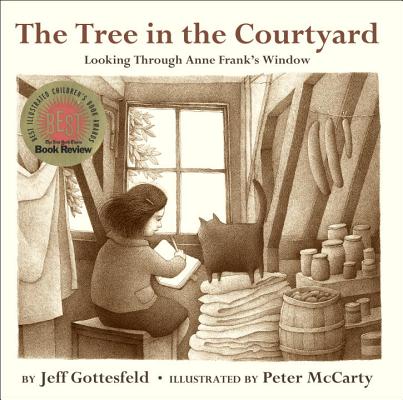 Stopping everything to tell you about
The Tree in the Courtyard, Looking Through Anne Frank's Window
. It's chilling. It's beautiful. I don't want you to miss it. Please don't.
Jeff Gottesfeld's text is delicate and poignant while Peter McCarty's brown ink on watercolor paper set the perfect tone. The work is based on this quote from Anne Frank:
"The two of us looked out at the blue sky,
the bare chestnut tree glistening with dew,
the seagulls and other birds glinting with silver
as they swooped through the air, and we were
so moved and entranced that we couldn't speak."
The text weaves the view of the tree with the life of Anne and her family. The conclusion is full of hope as seedpods are planted worldwide in her remembrance. This must win awards. Period.
The Tree in the Courtyard, Looking Through Anne Frank's Window
by Jeff Gottesfeld
illustrated by Peter McCarty
Knopf, 2016