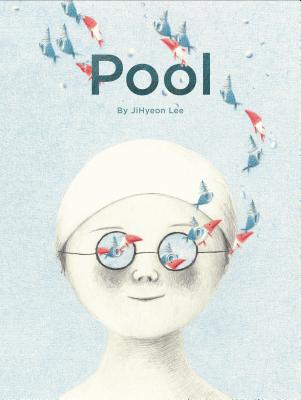 I'm a huge fan of wordless picture books. Before your summer ends and school starts up again, find
Pool
by JiHyeon Lee. As a young boy approaches the public pool, it seems the entire town turns out and jumps in ahead of him. But…what if he dives beneath all the floaties and splashing swimmers to find a girl down below. Maybe there is a world of coral, fish, and mythic creatures, tiny and great, to be discovered.
With their descent, color saturates the oversized format, and the reader is lost in another world created with color pencils and oil pastels. When the two friends resurface, it's possible their discoveries return with them and cause the pool to empty. The book is dedicated: "For Those Who Want To Swim Freely in the World."
This is JiHyeon Lee's first book. The work so clearly taps into the imagination it feels as if she has read our own wishes. Brava! Joan and I will be waiting for more from this gifted newcomer.
Pool
by JiHyeon Lee
Chronicle Books, 2015, originally published in South Korea, 2013