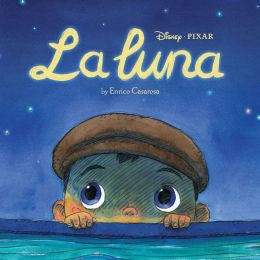 Did you catch the Pixar short for
Brave, La Luna
? It was simple, innovative, and enchanting, and you can now hold it in your hands with the picture book release. Enrico Casarosa's story and watercolor illustrations capture the mood of the Disney short, which was, actually, his directing debut.
The only illustration I truly miss is the one where the boy falls through the sky surrounded by stars. I wonder why it wasn't included as a full spread? As an aside, I haven't been able to find the soundtrack by Michael Giacchino. I would like to be able to hear it again and again.
If you loved the short, look for the book for your totz! And let me know if you find the music...
La Luna
by Enrico Casarosa
Disney Pixar, 2012