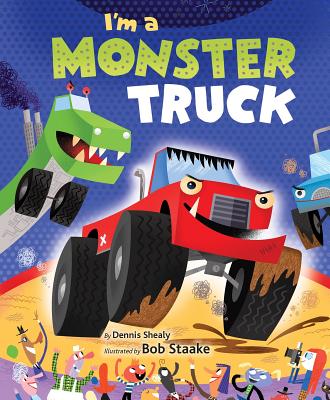 I'm back from my trip to the Middle East, and one of the first things I heard is that there's a readertot who likes monster trucks. "Do you have a book on them you could recommend?" Well, I do!
I'm a Monster Truck
by Dennis R. Shealy just came to my attention.
"I smash!
I bash!
CRASH!
I love the sound
of breaking glass!
'Cause I'm a...
MONSTER TRUCK!"
Bob Staake's zany graphic imagery is perfect to capture the atmosphere of a monster truck event. Between Shealy's text and Staake's illustration, your totz will feel as if they are in the stands. Sure to be a hit with lovers of locomotion, look for
I'm a Monster Truck
.
I'm a Monster Truck
by Dennis R. Shealy
illustrated by Bob Staake
Random House, 2011, 2016