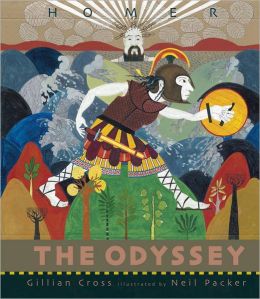 There are times when you find a book in your hands, and you just know that it represents the best work of an author and illustrator. I think of it as a lifework.
The Odyssey
by Gillian Cross, illustrated by Neil Packer, is one of those books.
Gillian takes Homer's epic and makes it accessible to young and old. The story flows with beautiful pacing and language. Causing those words to resonate are Packer's masterful illustrations. With a nod to Greek vase painting and his own expressionistic style, the story blossoms. You can sit and stare at the detailed paintings, and then find, you have to share the amazing images with someone else.
Candlewick's production honors the creation. The paper quality is rich, thick, and smooth, while the larger book size lets the reader relish Odysseus's journey.
This work is a treasure, a must-have for your family. Find it.
The Odyssey
by Homer
retold by Gillian Cross
illustrated by Neil Packer
Candlewick Press, 2012